Massage Therapy by RMT's
Massage therapy means many things to many people. In fact, a recently published scholarly article identifies more than 80 different styles of massage, many of which have been developed in the past 30 years! But to start, let's simply define massage as the manual manipulation of soft body tissues (muscle, connective tissue, tendons, and ligaments) to enhance health and wellbeing.
This definition excludes some kinds of bodywork, such as craniosacral therapy, Traeger, and Feldenkrais. While they are sometimes called "massage," they don't use manipulation of soft tissue as the main therapy. This definition also excludes therapies that are primarily energy work, such as Healing Touch, Reiki, acupressure, and reflexology.
Massage is often used for specific reasons, such as relief from pain, stress reduction, or enhancement of athletic performance. But whether there is a specific goal or not, massage therapy tends to increase the general health and wellbeing of the recipient.
What are some of the common styles of massage?
As the profession of massage therapy has grown, and more people are investing time and money
in feeling better, many new terms are being used to market massage. As a result, it can be hard to understand just what is being offered.
To try to reduce the confusion, we have created two tables that explain various terms. The first table lists commercial names that are often associated with relaxation styles of massage; the second lists names associated with clinical styles. (A style of massage uses a set of specific techniques for a specific outcome. In a typical massage session, a therapist often uses more than one style to address different health goals.)
What are relaxation styles?
Relaxation styles of massage offer gentle techniques. The goal, or intention, of relaxation massage is to reduce stress, promote overall wellness, relax muscles, diminish pain, and move body fluids (such as blood) to nourish cells and help remove
waste products.
Specific goals for relaxation massage include: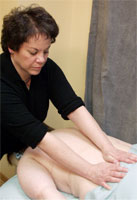 Relief for tight muscles (knots) and other aches and pains
Improved circulation
Reduction of stress
Enhanced sense of wellbeing
Improved mood (reduction in depression, anxiety, and anger)
Improved sleep patterns
Increased energy and vitality
Experience of comfort through touch
FOR OUR PRICES:
TREATMENTS BY REGISTERED MASSAGE THERAPIST: 1HOUR: $120
REGISTERED MASSAGE THERAPISTS
NAME: (CHRISTINA) NGOC MINH NGUYEN, RMT (MEMBER OF CMTO, RMTAO)
(VINCENT) THANG DINH, RMT (MEMBER OF CMTO, RMTAO)
AVAILABILITY: 7 DAYS A WEEK
MON TO FRIDAY :FROM 10:00 AM TO 8 PM
SAT: FROM 10:00 AM TO 630 PM
SUN: FROM 10:00 AM TO 530PM